The GILLIAMs of Virginia
Updated January 24, 2016
One cannot ignore Virginia when engaging in GILLIAM research. As one can see from the 1840 Census, most Gilliams lived in Virginia and those states that bordered Virginia. This pattern continued through the 1920.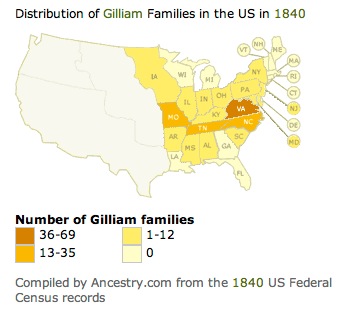 ---
Information on this website is arranged by
County
and then within in each County by type of source document—
Chancery Causes, Deeds, Wills
, etc. These sources are listed alphabetically.

Each page begins with
County Formation
and
Background
and information on the early
Parishes
of that particular County.


Genealogical information is summarized in a County
Overview
.


Occasionally, following a particular record, explanatory information will be included.
Such "editorial" comments are set off in brackets [...].


Information on names similar to GILLIAM are, at times, included for clarity's sake. For example, the Gilmans of Hanover County may be found on the Hanover County Page.

Each County Page concludes with a list of
Sources.
---
Preceding the list of Virginia County Pages in the
Side Bar
is . . .


These pages have a
GRAY SIDEBAR

---
Following the Virginia County Pages in the
Side Bar
is . . .

City/State/Country Pages documenting Virginian Gilliams that have removed to other states
These pages have a
GREEN SIDEBAR
---
The following icon indicates that I have on file a copy of the original document.


(See
Halifax County,
Will of Richard Gilliam, Inventory of Richard Gilliam, Account of Sale of Estate of Richard Gilliam)

---
Visitors
---
Copyright, Fair Use, etc.
I along with the help of several fellow GILLIAM researchers, in particular Mary Ellen Baker, Bonnie Flythe and Helen Sills have devoted many hours to compiling the information found on this site. Copyright of the information found at
GILLIAMs of Virginia
is held by Gregory A. GILLIAM, except as noted in sources.
None of the information found at
GILLIAMs of Virginia
may be copied, reproduced, distributed, republished, downloaded, displayed, posted or transmitted in any form or by any means, including, but not limited to, electronic, mechanical, photocopying, recording, or otherwise, without the prior written permission of Gregory A. GILLIAM.

Any unauthorized use of any information found at
GILLIAMs of Virginia
may violate copyright laws, trademark laws, the laws of privacy and publicity, and communications regulations and statutes.
Permission is granted to download and print information found at
GILLIAMs of Virginia
for personal, non-commercial use only. This permission terminates automatically if you breach any of these terms or conditions.
By using the information found at
GILLIAMs of Virginia
you acknowledge that you have read, understood, and agree to be bound by the above.
Gregory A. GILLIAM may at any time revise these terms.`