Origin, Pronunciation and Distribution of the GILLIAM Name in Virginia
Updated March 18, 2020
The Surname
The name GILLIAM is an English variant of William, from a central French form in which W is replaced by G. William is from the Norman form of an Old French personal name composed of the Germanic elements
wil
'will', 'desire' +
helm
'helmet', 'protection'. This was introduced into England at the time of the Conquest, and within a very short period it became the most popular personal name in England, mainly no doubt in honor of the Conqueror himself.
Prior to 1700 there lived in Europe many people with "GILLIAM" surnames. In England were Gilham and Gillam; Gillian, GILLIAM in Scotland; Guillam and Gwillam in Wales and Guillaume in France.
Prior to 1700 the GILLIAM surname appears in Virginia records as Gillam, Gilham, Guilam, Guilham Guillam, Guilliams, Gwilliam, Gwilliams, Gillom, Gillum, Gyllom, and GILLIAM (and undoubtedly other spellings).

GILLIAM is identified by the U.S. Bureau of the Census as a surname with more than 100 occurrences in the United States for the year-2000 U.S. Census. In "Demographic Aspects of Surnames from Census 2000", the Census Bureau tabulated the surnames of all people who had obtained Social Security Numbers by the year 2000.

GILLIAM ranks #1141 in terms of the most common surnames in the United States for 2000.
GILLIAM had 28,075 occurrences in the 2000 Census, according the U.S. government records.
Out of a sample of 100,000 people in the United States, GILLIAM would occur an average of 10.41 times.

All data is derived from David L. Word, Charles D. Coleman, Robert Nunziata and Robert Kominski (2008). "Demographic Aspects of Surnames from Census 2000". U.S. Census Bureau.

For convenience, the spelling GILLIAM will be used unless it is known that a particular person or line prefers another spelling. (For example, the GILLIAMs of Albemarle County consistently used the spelling Gillum.)

---
The Pronunciation

Though many GILLIAMs make a three-syllable word of the name GILLIAM (Gil-le-um), the name is most commonly pronounced in Virginia as a two-syllable word (Gil-lum or Gil-yum).

---
Surname Distribution

1840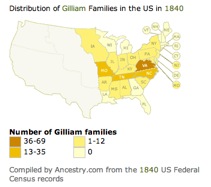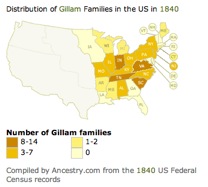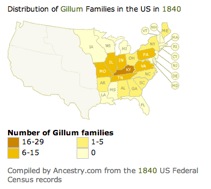 1880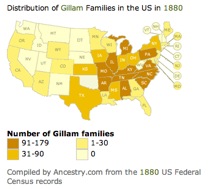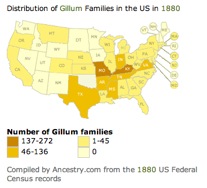 1920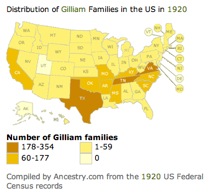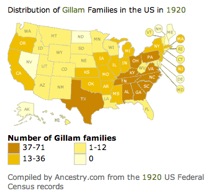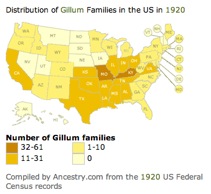 ---
Coat of Arms

My research to date has disclosed no evidence of descent from any person of the same or similar surname who was ever entitled to bear arms.

---
Sources
Ancestry.com. The Mecklenburg signers and their neighbors. Provo, UT. MyFamily.com, Inc. 2004.

Brock, R. A. "The GILLIAM Family," Richmond Standard, April 16, 1881.

Bye, Arthur E. A Friendly Heritage Along the Delaware: the Taylors of Washington Crossing and Some Allied Families in Bucks County, Vantage Press, 1959.

Colonial Records of Virginia. "Lists of the Livinge & the Dead in Virginia, February 16, 1623." Colonial Records of Virginia, 1874. Richmond, Virginia: R.F. Walker, Superintendent of Public Printing, 1874.

Coldham, Peter Wilson. The Complete Book of Emigrants: A Comprehensive Listing Compiled from English Public Records of Those Who Took Ship to the Americas for Political, Religious, and Economic Reasons; of Those Who Were Deported for Vagrancy, Roguery, or Non-Conformity; and of Those Who Were Sold to Labour in the New Colonies. Baltimore: Genealogical Publishing Co. 1607-1660. 1988.

GILLIAM, Charles Edgar. Genealogical Data on the Ancestors of Richard Davenport GILLIAM, 1855-1935. Self-published. 1938.

"Genealogical Notes from the High Court of Admiralty Examinations." New York General and Biographical Register, Volume 47, page 75

Nugent, Nell Marion. Cavaliers and Pioneers: A Calendar of Virginia Land Grants, 1623-1800. Vol. 1:1-7. Richmond, VA: Dietz Printing Co.

Oxford. Dictionary of American Family Names, Oxford University Press.

Ray, Worth S. The Mecklenburg Signers and Their Neighbors. Austin, TX, 1946.

Tyler, Lyon Gardiner. Encyclopedia of Virginia Biography, Volume I-II. New York, NY: Lewis Historical Publishing Company, 1915.