GILLIAMs of Montgomery County
Updated March 13, 2016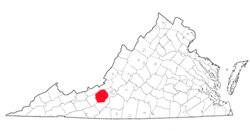 Background
Montgomery County was named for Richard Montgomery, who was killed in the American assault on Quebec late in 1775. It was formed from Fincastle County in 1776. Part of
Botetourt
County was added in 1789, and part of Pulaski County was added in 1842. Its area is 388 square miles, and the county seat is Christiansburg.

---
Parishes

Montgomery Parish, 1776
---
Overview
William GILHAM and Polly Goodykoontz, his wife, died in Floyd County, VA; however, they lived in Montgomery prior to their death in Floyd. William and Polly were married 6 Oct 1801 in Frederick County, VA. William is the son of Lt. Peter GILHAM of Frederick County, VA. It has been said that William was born in Pennsylvania, this is possible, for it appears that William is the son of Peter by a previous marriage. Peter married Mary on 22 Jul 1792 in Frederick.


However, William Gilham should not be confused with William Guilliams. A Franklin County deed dated 1819 refers to William Guilliams as of Montgomery County. This William is a son of Edgecomb Guilliams who left a Will in Franklin.
---
Census
1810 Montgomery County, Virginia
William GILHAM, age 26-45, head of household;
2 males 0-10; 3
females 0-10;
1 female 26-45;
0 slaves
Ancestry.com. Federal Census, page 25


1820 United States Federal Census
William GILHAM
Township: Blacksburg
County: Montgomery

[neighbor Daniel Goodykoontz]

Ancestry.com. Federal Census
---
Marriages

10 Nov 1815
William Smith and Franky Guilliams

[It is like that Franky Guilliams is related to the Guilliams of Franklin County, VA. William Guilliams in an 1819 deed refers to himself as of Montgomery County.]
---
Politics
William GILHAM represents Montgomery County in the Virginia Legislature
---
Sources
Ancestry.com. Federal Census Records