GILLIAMs of James City County
Updated March 23, 2016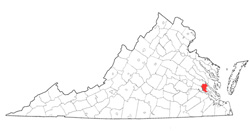 Background

James City County was named for James I. It was one of the eight shires established in 1634. Parts of New Kent and York Counties were added later. The county seat is Williamsburg. James City is one of the Commonwealth's Burned Records Counties. All county court records were lost in 1865.

---
Parishes
Argall's Gift Parish, 1618-1640
Blisland Parish, 1653
Bruton Parish, 1674
Chickacoan Parish, 1640-1643
Chippokes Parish, 1643-1647
Harrop Parish, 1645-1658
Hog Island Parish, 1624
James City Parish, 1607
Lawnes Parish, 1640-1652
Martin's Hundred, 1622-1712
Middle Plantation Parish, 1633-1658
Middletowne Parish, 1658-1674
Saint Peter's Parish, 1679-1767
Southwark Parish, 1647-1652
Wallingford Parish 1643-1720
Wilmington Parish 1658-1723
Yorkhampton, 1712

---
Overview
---
Census
No GILLIAMs by any spelling are found in the 1810-1840 James City Censuses.

In 1850 we find two GILLIAM families:
The Edward M. GILLIAM family, including Edward, a merchant, age 41, Maria, his wife, age 30, and their son, William, age 2. Also living with Edward are Elizabeth Shepherd and Susanna White, both age 13. Elizabeth and Susanna are both listed as Black.

The Susan GILLIAM family, including Susan, age 40, Thaddeus, age 12, Margarett, age 10, Samuel age 8, and Emily age 6. The children are all listed as paupers.

In 1860 we find the following GILLIAM families:
Edward M. GILLIAM, age 51, continues to reside in James City, it appears Maria has died for only son William, age 12 in now living with Edward, besides, William Wallis, age 9, a mulatto. William C. is in school. Maria may have died during childbirth. A daughter who is also not listed in the 1860 Census was born 21 Jul 1856.

Thaddeus, age 21, who in 1850 was living with Susan GILLIAM is now on his own and is living with the Charles Lively family, both he and Charles are waterman.

There appears to be several GILLIAM orphans living with various families near the Burnt Ordinary Post Office:
Edward GILLIAM, age 9, is living at the Burnt Ordinary Post Office with Ann Vaiden.
[Relationship is not known. In 1880 in Charles City, the William GILLIAM family is living a Louisa Vaiden.]

Elenora GILLIAM, age 7, is living at the Burnt Ordinary Post Office with Edward R. Coke, age 53, and Susanna, age 45, and Mary F. Farthing, age 27. Elenora is in school
. [Relationship is not known.]

Emily GILLIAM, age 13, is living at the Burnt Ordinary Post Office with Geo W. Hayles, age 43, Anna A. Hayles, age 55, and Mary J. Martin, age 7. George is a laborer, born in New York.

John F. GILLIAM, waterman age 36, Ann S., age 39, Victoria Crawley, age 17, and Albert Crawley, age 13. John's personal estate is valued at $75, whereas each of the Crawley children have personal estates valued at $1000.

Wm F. GILLIAM, carpenter, age 32, Willianna, age 20, Sarah E., age 4, Rosina, age 3, and Alexander G., age 6 months. Also living with William are Mary C. Bacon, age 13, and Martha J. Bacon, age 7. Both Bacon children are attending school and likely near relatives of William's wife, who was nee Willianna/Wilhemina Bacon.

Living in Williamsburg are Richd GILLIAM, age 56, Elizabeth E, age 56, Roberta, age 18, and Benjn GILLIAM, age 16. All were born in York County, excepting Roberta who was born in Chesterfield.

In 1860 one Free Black family was living in James City:
Hinchy GILLIAM, age 35, Priscilla, age 25, George, age 6, and Jana, age 3. He is a farmer. He likely takes his name from the Hinchea GILLIAM family of Albemarle Parish.
---
Sources
Ancestry.com. Federal Census Records