GILLIAMs of Elliott County, KY
Updated March 11, 2016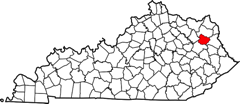 Background
Elliott County is a county located in the U.S. state of Kentucky. It was formed in 1869. Its county seat is Sandy Hook, Kentucky. The county is named for John Milton Elliott, U.S. Congressman; Confederate Justice of the Kentucky Court of Appeals. In regard to alcohol sales, Elliott County is a dry county, meaning the sale of alcoholic beverages is prohibited everywhere in the county.

It was formed on April 1, 1869, from parts of Morgan, Lawrence, and Carter counties.

---
Overview

Newton B. Gillum was the son of James Gillum and Charity, his wife. James is the son of Richard Gilliam of Scott County, VA.


---
Cemetery
Gillum Rocky Fork Cemetery

Gillum, Charles Frank
b. Jun. 20, 1925
d. Oct. 30, 2011

Gillum, Jasper Arthur
b. Jun. 6, 1906
d. Nov. 11, 1936

Gillum, Kenneth Carl
b. Jun. 18, 1945
d. Apr. 25, 1989

Gillum, Mary Alice Justice
b. Feb. 10, 1912
d. Feb. 3, 2000

Gillum, Newton Boggess
b. May 1, 1855
d. Aug. 12, 1923

Gillum, Pauline Ferguson
b. Jan. 23, 1923
d. Jul. 7, 1989

Gillum, Richard
b. Apr. 26, 1890
d. Oct. 29, 1918

Gillum, Sarah Ison
b. May 28, 1923
d. Apr. 28, 2000

Gillum, Wincel
b. unknown
d. unknown

Stapleton, Charlotte G,[ Lottie] Gillum
b. Dec. 12, 1856
d. May 31, 1943

---
Census
1870

Stephen Gillum
Age in 1870: 58
Birth Year: abt 1812
Birthplace: Virginia
Home in 1870: Precinct 5, Elliott, Kentucky
Race: White
Gender: Male
Post Office: Newfoundland
Stephen Gillum, age 58
Gillian Gillum, age 19
Elijah Gillum, age 17
Elizabeth Gillum, age 15
Martha Gillum, age 13
Mary Gillum, age 11


Isaiah Gillum

Age in 1870: 57
Birth Year: abt 1813
Birthplace: Kentucky
Home in 1870: Precinct 5, Elliott, Kentucky
Race: White
Gender: Male
Post Office: Newfoundland

Isaiah Gillum, age 57

Nancy Gillum, age 40
Howard Gillum, age 22
Elizabeth Gillum, age 21
Owen Gillum, age 18
Juda Gillum, age 16
Frederick Gillum, age 13
William Gillum, age 11
Sarah Gillum, age 9
Nancy Gillum, age 7
Ibba Gillum, age 2

Chesley Gillim
Age in 1870: 55
Birth Year: abt 1815
Birthplace: Virginia
Home in 1870: Precinct 4, Elliott, Kentucky
Race: White
Gender: Male
Post Office: Newfoundland
Chesley Gillim, age 55
Sarah Gillim, age 50
Cemantha Gillim, age 17
Munard Gillim, age 15
Nancy Gillim, age 13
Sarah Gillim, age 10
Lurena Gillim, age 5
Dolphus Gillum, age 21
Mary Gillum, age 18

Harriet Gillum
Age in 1870: 49
Birth Year: abt 1821
Birthplace: North Carolina
Home in 1870: Precinct 4, Elliott, Kentucky
Race: White
Gender: Female
Post Office: Newfoundland
Harriet Gillum, age 49
Virginia Gillum, age 18
Newton Gillum, age 15
Charlotta Gillum, age 13
Meredith Gillum, age 11
Frances Gillum, age 8
Chesley Gillam
Age in 1870: 45
Birth Year: abt 1825
Birthplace: Virginia
Home in 1870: Precinct 1, Elliott, Kentucky
Race: White
Gender: Male
Post Office: Sandy Hook
Chesley Gillam, age 45
Diannah Gillam, age 45
Susannah Gillam, age 13
James Gillam, age 9
Elizabeth Gillam, age 9
Darthula Gillam, age 5
Alexander Gillam, age 11/12

Pleasant Gillum
Age in 1870: 39
Birth Year: abt 1831
Birthplace: Kentucky
Home in 1870: Precinct 1, Elliott, Kentucky
Race: White
Gender: Male
Post Office: Sandy Hook
Pleasant Gillim, age 39
Louisa Gillim, age 33
Abagail Gillim, age 15

Sarah Gillum
Age in 1870: 36
Birth Year: abt 1834
Birthplace: Kentucky
Home in 1870: Precinct 4, Elliott, Kentucky
Race: White
Gender: Female
Post Office: Newfoundland
John Gillum, age 34
Sarah Gillum, age 36
Mary Gillum, age 11
Thomas Gillum, age 8
Ison Gillum, age 7
Amanda Gillum, age 3

William Gillam
Age in 1870: 29
Birth Year: abt 1841
Birthplace: Kentucky
Home in 1870: Precinct 1, Elliott, Kentucky
Race: White
Gender: Male
Post Office: Sandy Hook
William Gillam, age 29
Sarah Gillam, age 18
Moranda Gillam, age 6/12
Banregard Adkins, age 9

Jesse Gillum
Age in 1870: 25
Birth Year: abt 1845
Birthplace: Kentucky
Home in 1870: Precinct 5, Elliott, Kentucky
Race: White
Gender: Male
Post Office: Newfoundland
Jesse Gillum, age 25
Mary Gillum, age 25
Sarah Gillum, age 2

James S Gray
Age in 1870: 25
Birth Year: abt 1845
Birthplace: Virginia
Home in 1870: Precinct 1, Elliott, Kentucky
Race: White
Gender: Male
Post Office: Sandy Hook
James S Gray, age 25
Sidney Gray, age 27
Sarah Gray, age 6
Allice Gray, age 4
Martin Gillum, age 12

Charles Gillum
Age in 1870: 66
Birth Year: abt 1804
Birthplace: Virginia
Home in 1870: Precinct 1, Elliott, Kentucky
Race: White
Gender: Male
Post Office: Sandy Hook
Charles Gillum, age 66
Winney Gillum, age 64
Nancy Gillum, age 16
Louisa Freeman 12

---
Wills

Will of Newton B. Gillum
Burke, KY
July 26, 1923

I Newton B. GILLUM of Burke Elliott County Kentucky Being of lawful age sound mind memory and understanding do herein make my last will and testament in manner and form as follows
First I Hereby grand and Bequeath to each of my children of my first family (namely) Jim GILLUM, Pleasant GILLUM, Marion T. GILLUM John W. GILLUM Charles GILLUM Dave GILLUM N.B. GILLUM J R, Liza J. (GILLUM) Barker, Mosora (GILLUM) Bellomy, and Richard GILLUM the amt of five ($5.00) Dollars each to Be Paid out of my live Policy
Second I hereby Bequeath all my property Both Personal and real lands mortage notes cash Hausehold goods or any and all fo my Belongings to my wife Susan J. GILLUM, and my children by her namely Jasper A GILLUM, Ruth A. GILLUM, Edward L GILLUM, Dortha A. GILLUM, Barbarie GILLUM Marie GILLUM Henry W. GILLUM Ida GILLUM shares and share alike which Estate and Property is to Be Devided when the youngest child (Ida GILLUM) marries or reaches the age of eighteen yrs however should my wife Susan J. GILLUM marry she thereby and therefore becomes disqualified to inherit or possess any of the my Property whatever under this my will and testament
Third
I hereby and herewith make and appoint my son John W. GILLUM my administrator and executor without Bond to sue and Be sued sell transfer and sit our loan or dispose of any and all of my Property Both Personal and real as his Judgment would Suggest it is hereby understood and agreed that my executor J. W. GILLUM Beginning from my Death is to take over and assume full controll of all my cash Bonds mortgages notes stock in wholesale grocer Co gov Bonds or Stamps and controll and Handle same as he thinks to Best int of my wife and infant children issuing to them from time to time as their needs require and for and in consideration of services Rendered By said executor John W. GILLUM in administering and Handleing said Business he shall Receive a Reasonable Compensation for said services

Page 2 is also handwritten on the same ledger book paper. The wording is the same but the spelling and punctuation is corrected. It is in a different handwriting.

Page 3 is in the second handwriting and from the same ledge book with the heading
"Record of Freight Received at ______".

I hereby set my hand and seal to this my last will and testament this the 26 day of July, 1923.
Newton B. GILLUM
Susan J. GILLUM

We being present on the day and date mentioned and knowing Newton B. GILLUM to be of sound mind and judgement hereby witness his last will and testament this day and date above mentioned.
Witness: J. W. GILLUM
C. C. Stapleton (her X mark)

State of Kentucky
Elliott County

I Logan Wooldridge Clerk of the County Court for the county and state aforesaid do certify that the foregoing will of N.B. GILLUM was lodged and recorded in my said office. Given under my hand this Nov 7, 1923.
Logan Wooldridge Clerk

---
Sources