GILLIAMs of Smith County, TX
Updated March 19, 2016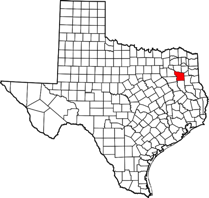 Background
The first known inhabitants of the area were the Caddo Indians, an agricultural people with a highly developed culture. Their tribes, particularly the Anadarkos, occupied the area for centuries before Europeans arrived. The first European visitor was a Spanish missionary named José Francisco Calahorra y Saenz, who traveled through the area in 1765 and mentioned the Neches Saline, saline plains in what later became the southwestern corner of the county, in his account of the journey. No other European entered the vicinity until 1788, when Pedro Vial and Francisco Xavier Fragoso, two Frenchmen, passed through on a journey from Santa Fe, New Mexico, to Natchitoches, Louisiana. Late in the eighteenth century, disease and threats from other Indians forced the Caddos to move. By 1820, however, the Cherokees, led by Chief Bowl, had settled at the Neches Saline after being driven from North Texas by hostile tribes. While these and other Indians occupied the area, the Mexican government issued grants for parcels of land now in Smith County. These included grants to David G. Burnet in 1826, Peter Ellis Bean in 1828, and Vicente Filisola in 1831. George W. Bays, who arrived on the Neches Saline in 1823, became the first non-Indian settler. Though he left after the Fredonian Rebellion and later returned only briefly, others were moving into the area. Still, unrest prevented the development of any sizable white settlement. In 1836 there were forty people, three trading posts, and a salt works on the Neches Saline, but after the fall of the Alamo the settlers retreated for a while to Lacy's Fort, located nearby in what is now Cherokee County. Deteriorating relations with the Cherokees retarded settlement of the area until the Cherokee War of 1839 led to the removal of the tribe.
With the area open to permanent settlement, pioneers began to homestead. Most were small farmers who came from the South, particularly Alabama and Tennessee. In July 1846 Smith County was marked off from the Nacogdoches District and named for Gen. James Smith, a hero of the Texas Revolution and a prominent military figure in the Republic of Texas.

---
Overview
Minyard Gilliam is a descendent of William Gilliam of Charlotte County, VA.
---
Census
1860

Minyard Gillam
Age in 1860: 59
Birth Year: abt 1801
Birthplace: South Carolina
Home in 1860: James Town, Smith, Texas
Gender: Male
Post Office: Jamestown
Minyard Gillam, age 59
Martha Gillam, age 54
Andrew Gillam, age 23
Minyard Gillam, age 21
Caroline Gillam, age 18
George Gillam, age 16
Emeline Gillam, age 14
Harris Gillam, age 12
Mary Smith, age 50

[Prior to removing to Smith County, TX. Minyard resided in Franklin County, TN]


1870

Minard Gilliam
Age in 1870: 69
Birth Year: abt 1801
Birthplace: South Carolina
Home in 1870: Canton Beat, Smith, Texas
Race: White
Gender: Male
Post Office: Troupe
Minard Gilliam, age 69
Martha Gilliam, age 65
Georg Gilliam, age 26
Elizabeth Gilliam, age 18
Taylor Gilliam, age 21


1880

Miniard Gilliam
Age: 78
Birth Year: abt 1802
Birthplace: South Carolina
Home in 1880: Precinct 8, Smith, Texas
Race: White
Gender: Male
Relation to Head of House: Self (Head)
Marital Status: Married
Spouse's Name: Martha Gilliam
Father's Birthplace: Virginia
Mother's Birthplace: Virginia
Occupation: Farming
Miniard Gilliam, age 78
Martha Gilliam, age 75
Ashley Gilliam, age 22
---
Family Histories
MINYARD GILLIAM AND FAMILY.
Minyard Gilliam was born in Lawrence County,
[Laurens]
S. C. in the year 1801. His wife was born in the same state and county, in 1804. Her maiden name was Harris. They both emigrated with their parents to Tennessee, in 1812, and they were married in Franklin county, Tenn., in 1820, and resided in that county and state until the year 1854, where they raised a large family of children—fourteen, and all lived to be grown, only one dying in Tennessee, the balance—thirteen in number—all emigrating to Texas with their parents in the year 1854, settling in Smith county, in the neighborhood of Jamestown. Sarah Ann, the oldest, married A. M. Garrett, in Tennessee, died in 1856, leaving seven children. Garrett is still living in Smith County. The children all emigrated west several years ago. W. H. Gilliam, the next oldest, married in Tennessee, a Miss Caroline Garrett. They raised a family of eight children. Both are now dead.

Eliza married J. H. Ashley, who raised a large family of children, who have emigrated to other parts of the State. Mrs. Ashley is living in Western Texas.

Anna married Isaac Gibson, they had five children, all are dead.

Richmond married Miss Garrett, he is dead. The widow and two sons live in Bell county, Texas.

H. R. Gilliam married Miss Keele, and both reside in Tyler: they had nine children, six are living.

Nancy married John P. Gibson, both are dead, had a large family; only four of the family are living.

A. J. Married Miss Moore; they had six children; five are living.

Minyard Gilliam married Miss Douglass; both are dead; raised six children.

Carrie married J. B. Reilly, both are dead; had seven children; five are living

G. W. married twice; first married Miss Arnold; had two children; mother and children are dead; second marriage with Miss Martin; have three children; second wife dead.

Emma married C. M. Graybill; have three children; C. M. Graybill is dead.

H. T. Gilliam married Miss Ella Hollinsworth; had nine children; eight living.

Minyard Gilliam, Sr. died in 1888, at the age of eighty-seven; his wife died in 1894, aged ninety years.

Five of the boys were in the Confederate army; all returned home; only one wounded, W. H.; three out of the five are now living. H. R. Gilliam was a confederate captain.

The Gilliams stand high in public estimation. They comprise an intelligent citizenship. In religious belief they are Baptists. In politics they are democrats, and it is said never scratched a ticket.
Johnson, Sid S., Some Biographies of Old Settlers: Historical, Personal and Reminiscent. Volume 1, 1900: Tyler, Texas

Chapter LXXIV, pages 302 - 305
---
Sources