GILLIAMs of Union County, SC
Updated March 29, 2016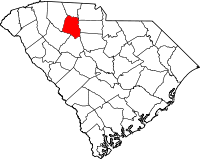 Background
Union County was named for the old Union Church, which served both the Presbyterian and Episcopal congregations in the area. The church was erected in 1765 near the present day town of Union, the county seat.

Union County was created as a part of Ninety Six District in 1785. It was part of Pinckney District from 1791 to 1800 and became a separate district when Pinckney was dissolved in 1800. The upper part of the county later went to form Cherokee County in 1897. The early settlers in this area were mainly Scotch-Irish from Virginia and Pennsylvania, who began immigrating to the South Carolina upcountry in the 1750s.

---
Overview
---
Deeds
Nov 1814
Lewis Wood to Reuben Gilliam, 75 acres SW side of Cane Creek, adj. Jacob Hollingsworth, Rucker Mauldin.
Wit: Hundley McShan, Edward Stevens, Nathan Sims. Chencley Wood, wife of Lewis, relinquished dower 22 May 1816.
Union County, SC, Deed Book___, page ____

---
Family History

---
Wills
20 Nov 1794

Will of James Sims of Union County

In the name of God Amen. I James Sims of the County of Union in the state of South Carolina being weak in body but of perfect sense and memory and calling to mind the uncertainty of this transitory life and knowing that it is appointed for all men once to die do make and ordain this my last will and testament in manner of form following:

Imprimis I give my should to God who gave it hoping through the death and merits of my blessed savior Jesus Christ to be mae partaker of the never fading joyous of immortality at the day of resurrection: and as for what temporal estate it hath pleased God to bestow on me I give and bequeath the same in manner and form following:

Item: To Wm Gilliam and his wife Nancy all the negroes and other estate formerly delivered and now in their possession and is their heirs forever.

Item I give and bequeath unto Peter Brasellman and Drusilla his wife; all the negroes and other estate formerly delivered and now in their possession and to their heirs forever.

Item I give and bequeath to my daughter Anne G Sims one negro woman named Tabb and her five children namely Milley, Fanney, Dibey, Robin, and Jeter together with their future increase and to her heirs forever; and in case my said daughter should die without lawful issue then the said Negroes and their increase to be equally divided among my five children viz. Drusilla Brasellmann, Mathew, John, Nathan and Reuben Sims or the survivors of the and their heirs forever,

Item my Will I desire is that all the residue of my estate of what nature soever shall remain in possession of my wife Elizabeth under the direction of my executors until my just debts are fully paid and during her widowhood, to be delivered as a loan to either of my five sons as they may need, agreeable to the opinion of my executors not to be removed beyond the limits of this place ever debating the delivery of a slave to my son James and after the death or intermarriage of my said wife all such estate together with the increase arising thereon to be collected together and be appraised by three justices of the peace of this county with the assistance of my executors which I give to be equally divided between my four sons: Matthew, John, Nathan and Reuben Sims, they paying to my son James the one fifth part of the appraisement of the slaves and one fifth part of the residue of such estate to be delivered him and to their heirs forever, and if either of my said sons should die without heir lawfully begotten them their part so dying or the value thereof to be equally divided between my two daughters Drusilla Braselmann and Anne Glenn Sims and the survivors of my said sons

And lastly I nominate constitute and appoint my said wife Elizabeth Executrix and my friends Peter Brasellmann and John Sanders Executors of this my last Will and Testament, hereby revoking and making void all other Will orWills heretofore by me made

In testimony whereof I have hereunto set my hand and seal this twentyeth day of November one thousand seven hundred and ninety four.

Sig: James [his X mark] Sims
Wit: Joshua Kenworthy; John Kenworthy; and Cornelius Wilson

Rec: 1 Jan 1795
Teste Ben Haile, DC


Union County, SC, Will Book A, page 34
Box E, package 24

[Nancy, married William Gilliam who settled in Newberry from Virginia. It is most likely that William Gilliam hailed from Hanover County, VA, for a William Gilliam was the overseer for James Sims in 1782.]
1817

Will of Sampson Gilliam
Union County, SC Probate Index, 1782-1865
1835

Will of Bird Gilliam
Union County, SC Probate Index, 1782-1865

1835

Will of Drucilla Gilliam
Union County, SC Probate Index, 1782-1865

23 Sep 1864

Will of Robert W. Gilliam
Whereas I Robert W. Gilliam of the State aforesaid late of Newberry District but now of Union District, being about to travel to the West, and thinking of the causalities of travel and desiring to dispose of my worldly good and estate in the event of my death, do make, ordain, and establish this as my Will.

Item 1st, it is my will and desire that all my just debts be paid

Item 2nd I hereby after the payment of my debts and all liabilities to my sureties P. B. Rutherford and George Blair of Newberry District on my administration bond of the estate of Reubin Gilliam, give, devise and bequeath my whole estate both real and personal of what nature so ever to my brother Reubin S. Gilliam and my sister Drucilla Gee during the term of their natural lives respectively share and share alike my negroes not to be sold but divided between them and if either should die leaving no lawful child living at their death then that portion hereby devised and bequeathed to him or her to go to the child or children of the other.

Item 3rd It is my will and desire that my said brother and sister shall pay my cousins James Gorie and Thomson Gorie each five hundred dollars out of the estate hereby bequeathed to them.

Witness my hand and seal this twenty-second day of January in the year of our Lord one thousand eight hundred fifty nine and in the eighty third year of the sovereignty and independence of the United States of America.

Sig: Robert W. Gilliam

Signed, sealed and published as the last Will of Robert W. Gilliam before us who witnessed the same in his presence and at his request and in the presence of each other
R. Macbeth, B. F. Arthur, Thos B. Jeter.

Union District, South Carolina
By Columbus Gage, Ordinary, personally appeared before me, R. Macbeth one of the subscribing witnesses to the foregoing instrument of writing who after being duly sworn said on oath that he saw Robert W. Gilliam sign and declare the same to be his last will and that the said Robert W. Gilliam was then of sound mind and disposing mind, memory and understanding tot he best of deponents knowledge and belief, that he the said R. Macbeth with B. F. Arthur and T. B. Jeter signed their as witnesses thereto by request of the testator in his presence and in the presence of each other.

Given under my hand this 23rd day of September AD 1864.

Union County, SC Probate Index, 1782-1865
---
Sources