"Planterstown," Home of Isham Richardson GILLIAM
Virginia Historical Inventory

Updated March 18, 2120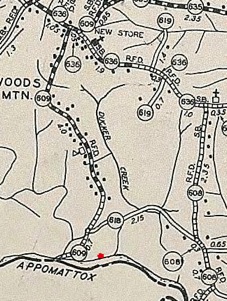 Background

For information on the Virginia Historical Inventory see
"The Price Place"


"An act to establish several towns, passed by the General Assembly January 15,1798:
Be it enacted by the General Assembly, that 25 acres of land, the property of Ichabod Hunter and John Epperson, lying at the Cutbanks in the County of Buckingham, shall be, and they are hereby invested in William Perkins, Jr. Charles Yancey John Johns Joel Watkins Daniel Moseley Henry Flood Nathaniel Lancaster Robert Kelso Anthony Winston Stephen Pettus Gentlemen, trustees, to be by them or a majority of them, laid off into lots of half an acre each, with convenient streets, shall be and is hereby allowed the owners of lots in PLANTERSTOWN, in Buckingham County, to improve the same in manner required by law."

Whitley, E. R. Genealogical Record of Buckingham County, VA, page 133
Overview

John GILLIAM married about 1768, Susannah Richardson, the daughter of John Richardson and Mary Curd, his wife. To them was born several children including Isham Richardson Gilliam, Sr., who married about 1803 Sarah Johns, the daughter of John Johns. Isham purchased Planterstown from Ichabod Hunter about 1818. Isham lives there until his death in 1859. By 1884, Planterstown falls into the hands of Isham's son, William Robert GILLIAM, who married cousin Harriet Frances GILLIAM, the daughter of John C. GILLIAM and Elizabeth Ann Thackston. In 1889 William Robert GILLIAM deeds Planterstown to his son Philip H. GILLIAM. Philip H. GILLIAM married his cousin Gertrude Bacon GILLIAM, the daughter of Henry Evander GILLIAM, Sr., and Alice Margaret Sears, his wife. Gertrude was the widow of Walter F. Ford. AT about the time of Philip's marriage he sells Planterstown to his brother William Reaves GILLIAM, who in 1920 according to the following report sells Planterstown to D. M. Sender, whom has yet to be located in either the 1920 nor 1930 Census.

---
Planterstown, Survey Report
30 Nov 1937
Elizabeth McCraw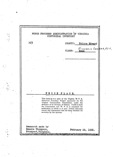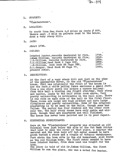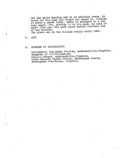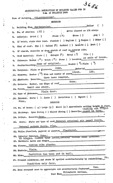 1. SUBJECT
"Planterstown"

2. LOCATION:
Go south from New Store 4.2 miles on Route #609, thence east .4 mile on private road to the house down a very steep hill.

3. DATE:
About 1798

4. OWNERS:
Ichabod Hunter, records destroyed by fire 1798
Isham GILLIAM, record destroyed by fire, 1818
W. R. GILLIAM, records destroyed by fire, 1884
P. H. GILLIAM, Deed Book 6, page 338, 1889
W. R. GILLIAM, Deed Book 24, page 780, 1907
D. M. Sender, Deed Book 25, page 77, 1920
Present Owner

5. DESCRIPTION:
At the foot of a very steep hill and just on the edge of the Appomattox River, in the old "Planterstown" house. What was originally the front of the house is now the back. A white paling fence encloses a small yard. From a one story porch one enters a narrow hallway. From this hall a winding one flight stairway, very steep and narrow, leads to the half story room above. Very pretty wainscoting is noticeable in the hall also. There is one room on each side of the hall on the first floor. These rooms are large and height pitched and have large fireplaces and pretty wainscoting. Some of the original plastering is to be seen on the walls, though some has fallen. The parlor has four windows and the other room only tow. The half story rooms have only gable and windows, though they are plastered and well finished. The house has never been painted and is in poor repair.

6. HISTORICAL SIGNIFICANCE:
Here on the "Planterstown" property was situated an old colonial town just below the site of the Cut Bank Bridge that used to span the river at that place. A charter was secured and the town laid off but never seemed to have grown beyond a store and a couple of tobacco warehouses. Just above the town site is the old homestead, also know as the old GILLIAM home. The first owner seemed to have been Ichabod Hunter, from who land was bought for the town. The story is told of old Mr. Isham GILLIAM, the first GILLIAM to own the place, who was a noted fox hunter. One day while hunting and in an exciting chase, he threw off his coat and forgot al about it. Finding it about a month later, swore it belonged to a run away Negro, for, putting it to his nose, he said it smelt like one. His wife could hardly convince of his mistake. The place was in the GILLIAM family until 1920.

7. ART

8. SOURCES OF INFORMATION
Informants: Mrs. Annie GILLIAM, Andersonville, VA, daughter of W. R. GILLIAM, Sr.
Mrs. D. H. Senger, Andersonville, VA
Court Records, Clerks Office, Buckingham County, Buckingham Courthouse, VA

---
Sources
Library of Virginia, Virginia Historical Inventory. Survey Report, Planterstown